Description
The Proactive Stainless Steel Mini-Monsoon Pump Kit includes the Stainless Steel Mini-Monsoon Pump and the optional Low Flow Controller.
Stainless Steel Mini-Monsoon Pump
The SS Mini-Monsoon® pump is capable of pumping up to 80 feet from ground level by simply connecting it to a 12 volt battery. Its reliable design is suitable for continuous purging of groundwater wells. Proactive's Stainless Steel Pumps are patented for their unique design (#7584785). For the harsh environments!
The SS Mini-Monsoon® can operate under harsh conditions with higher turbidity.
The SS Mini-Monsoon® has been installed in hundreds of remediation sites using pump and treat systems.
The SS Mini-Monsoon® can also be used with solar panels for long term groundwater remediation.
Why choose the SS Mini-Monsoon®?
Simple to use!
Runs off any of any 12 volt DC batteries. Lifts up to 80 feet deep from ground level to water level!
Great substitute for Engineered Plastic Pumps.
Reliable design is suitable for groundwater purging or long-term remediation projects.
Computer engineered bottom debris filter screen allows operation under harsh conditions with higher turbidity.
Long lasting, high performance pump motor lasts over 400 hours under normal working conditions.
Simple to clean and decontaminate!
The SS Mini-Monsoon® is only 1.82″ OD and constructed of three high polished stainless steel parts:
1.The replaceable motor module
2.The motor housing top connector
3.The outside pump housing
SS Mini-Monsoon® "30 Second Change Out Motor Design!" – A Great Value!
The main wear out parts consisting of the motor and seal all have been incorporated in a single replaceable motor module. Should the existing replaceable motor module fail in the field, a new replaceable motor module can quickly be installed within 30 seconds by a simple quarter turn twist! Once installed, your pump is essentially new and will have a life span identical to a new pump.
Specifications
Power Consumption: 240 WATTS (MAX)
Volt Recommendation: 12-15 At Source
Maximum AMP Output: 16 AMPS
Measurements: Length 7.5 " / Diameter: 1.82″
Constructed: High Polished Stainless Steel
Required Tubing: 3/8″ ID Tubing
Supplied with: 90 feet of Heavy Duty 10 Gauge Wire, 1 Motor Module, & Wrench
Optional Low Flow Controller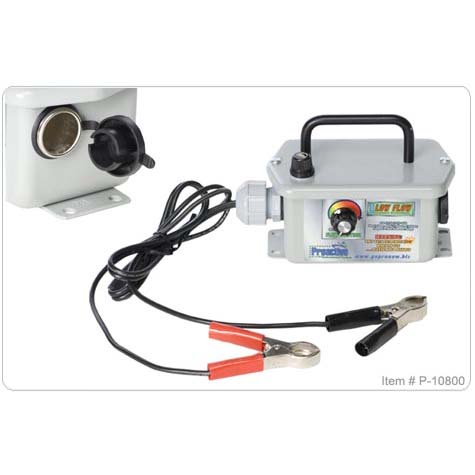 Engineered specifically for Proactive's™ 12 Volt standard pump line
The Proactive™ Low Flow Sampling Controller is engineered specifically for the Standard Engineered Plastic Cyclone®, Mini-Typhoon®, Typhoon®, Tornado, Abyss®, Tempest®, and Mini-Monsoon® pumps. This controller will not work with the Super Twister®. With the Low Flow Sampling Controller the user can precisely control the water discharge with the turn of a knob. The Low Flow Sampling Controller is used to monitor and regulate low flow sampling as low as 40ml/min. Simply connect a 12 volt battery to the pump and stand back for awesome pumping power!
Check out all the great features of the Low Flow Sampling Controller
Engineered with reverse polarity protection
Advanced thermal overload protection
Heavy duty steel weatherproof case
Constant Voltage Boosting Technology (CVBT) allows the correct voltage to reach the pump motors
20 AMP "safety" fuse to protect electronics and user
6 month parts and labor warranty
'Ramp Up' control dial
3 foot wire lead to battery clamps and 5 foot wire leads to pump connector
Steel handle for comfort and control